Trust
In the bustling IPORT Business Park in Rolleston, ZEAL Construction was contracted for a design and build on 11 Container Drive.
The previous owner, Stuart McClean, has since sold the warehouse and office space, but Stuart, who selected ZEAL for the design and build, was extremely satisfied with the result.
Having worked with our own Mike Hyslop prior to ZEAL's establishment, Stuart was keen to work with him, Bertie, and the entire team to get results.
Stuart says that his reason for choosing ZEAL came down to value for money and the team's promptness.
A highlight of the build and design for Stuart was the transparency, particularly of the costings thanks to the trade summary.
"This thing is so good. You can see the cost of every item, department, trade, whatever. And you can see how much you need to pay, and I can go, I don't want that or want to change that, and you can talk about it with them."
He says that it gave him the flexibility to know when to pay and how much to pay at different points throughout the design and build.
"So, halfway through the project, you knew where you were moneywise. So, you can go, 'okay, I'll pay half, or I'll pay two thirds. I'll pay for the gravel; I'll pay for that'. It's a common-sense way to say, 'look, I want to build this, you guys build it'. You go on-site, and you can see what's there, and, okay, I'll pay that money."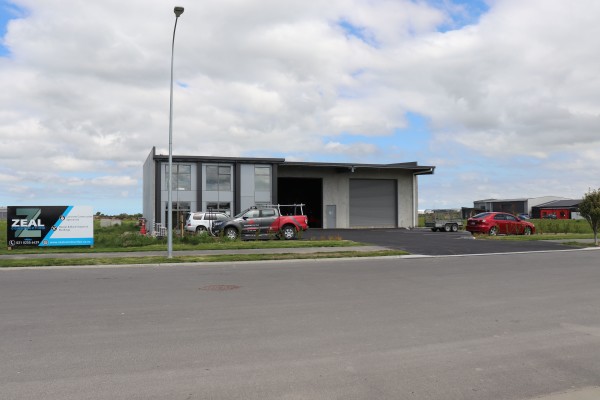 Stuart mentions this made him feel comfortable and safe in the knowledge that his money was seeing physical results.
Another thing that stood out for Stuart was how the team stuck to what he, as the client, desired. Stuart drew up the warehouse exactly how he wanted it 'to within 100 millimetres', and the ZEAL team priced it up for him and made the design based on his needs.
"Sometimes, you'll go somewhere, and you'll know what you want, and you give someone an idea of what you want, and they go away and change it all around. He says that with ZEAL, "these guys here, they give you exactly what you want."
Stuart said he would work with ZEAL again and has plans to. He emphasises how valuable the 'trust factor was maintaining communication with the team and felt totally able to chat to them about anything throughout the entirety of the process.
Stuart also notes that that ZEAL's Bertie Botha was great at frisbee golf, and would let him win.